UPDATES
Tribute to Rafika Banu
We pay loving tribute to the late Ms Rafika Banu, a brilliant and hardworking Samiksha student who left us on 5 July 2020.
Rafika was the daughter of Shri Babujaan and Smt Majanbi, residents of Tumkur district, and aspired to be a Doctor. She was a student from 2016 onwards at the Samiksha learning centre at Kidwai Memorial Institute of Oncology, where she was being treated for Ewings Sarcoma.
Rafika completed her planned treatment regimen in 2017 and was declared to be in remission. She scored 93% in her SSLC examinations (grade 10) in 2018, and was one of the first recipients of the Samiksha Scholarships Program. She then joined PUC in the Government PU College, Patta Nayakanahalli, and began preparing for the NEET examinations to pursue Medicine.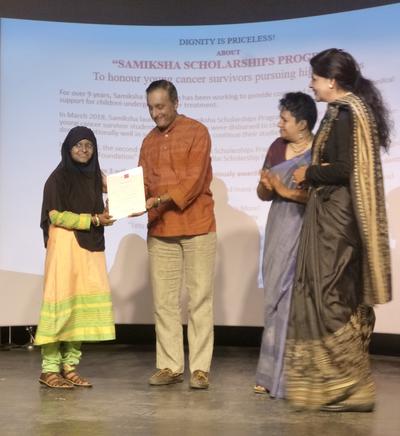 Unfortunately, she had a relapse of the disease and was started on salvage chemotherapy. After a short period of remission, she had a second relapse with minimal chances of cure, and was started on palliative chemotherapy.
Throughout this time, she continue to pursue her II PUC studies with hope and dedication towards her dream. Her family, teachers, hospital staff, and family physicians all supported this wish.
She won a total of three awards from the Samiksha Scholarships Program during her treatment, and continued to visit the Learning Centre at the Kapur Ward whenever she came to the hospital. She served as a wonderful role model for the younger children, teaching them where possible and and encouraging them that they could achieve anything they put their mind towards.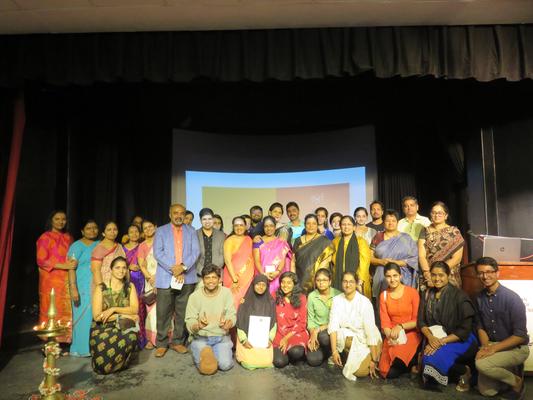 In spite of the advanced state of her illness, she appeared in all the II PUC (grade 12) examinations held in March 2020. Rafika was only unable to attend the English paper, which was originally scheduled on 23 March 2020 and was postponed to 18 June 2020 due to COVID-19, by which time she was already too ill to sit the examination.
She breathed her last on 5 July 2020 at 2am. Shortly after, on 14 July 2020, the II PUC results were announced: Rafika scored 72.25% in the core papers and 74.8% in the Kannada language paper. Despite this excellent performance, she received an overall result of 'fail' due to her absence in the English paper.
Samiksha Foundation, with the support of Rafika's family, has appealed to the Government of Karnataka and Directorate of Pre-University Education to declare Rafika's II PUC result as Pass under these exceptional circumstances. We have received an encouraging acknowledgement from the Minister and await their decision on the result.
We are grateful to have known such a brilliant, motivated, go-getting, and ever-smiling young person. Please keep reading below for testimonials from the Samiksha team on the impact of her presence in our lives.
Testimonials
Vidyawathi BS (Teacher, Samiksha Foundation)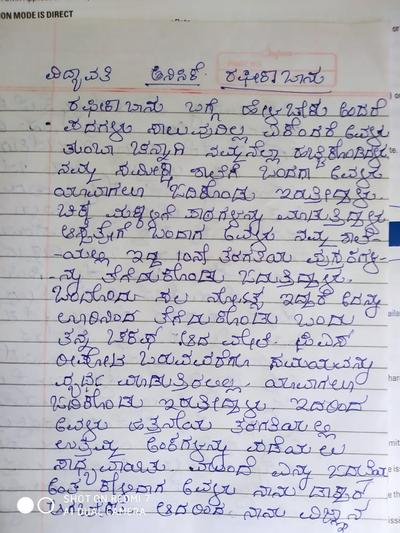 Ambika Chandrashekar (Storyteller, Samiksha Foundation)
I first met Rafika Banu in 2016 through Dr. Avinash. She was getting treated in the Infosys Dharmshala and used to come to the Kapur Ward and attend classes conducted by Samiksha Foundation. She was a brilliant student and would also help other students. She was in her 11th standard when she received her scholarship at the first Samiksha Scholarship Program in March 2018, she had come to Bangalore from Shira and gave a little speech about her thoughts and Samiksha Foundation and how she aspires to be a doctor.

As her cancer had relapsed, she came to Kapur Ward again and used to attend classes. She always used to talk about her studies with me and used to help me by telling little tales to other kids. She left in February 2020 after treatment. I had called her in March to check up on her and how her studies were going. She was confident that she would do well in her 12th PU exams. It's very sad that she was not able to write her last exam. She would have been ecstatic to hear that she has secured 72%. May her soul rest in peace.
Parvathi KB (Teacher, Samiksha Foundation)
Rafika Banu is a star of Samiksha Foundation. She was very good hearted and had a helping nature and well educated. She was very good to everyone and when we visited her house, they gave a very warm welcome and I was happy to visit them. Dr. Avinash referred to her as his favourite student and she was a rank student in school & college - a topper in all subjects. She started her journey at Samiksha Learning Center in her 9th Std till her 2nd PUC and was very good. She taught younger children maths and science.

When she joined Ist PUC, she wished to pursue medicine later & hence started preparing for NEET Examinations. Unfortunately, she had a relapse of the disease & was started on salvage chemotherapy. However, she managed to appear for her 2nd PUC examinations with interest and with hope to become a doctor.
Valli Narasimha (Education Coordinator, Samiksha Foundation)
I remember Rafika as an ever-smiling girl, excited to meet us all whenever she came to Kidwai Hospital for her check-ups. I first interacted with her just before the first series of the Samiksha Scholarships Program in March 2018. At that time, she had just given her SSLC exams and was confident that she had done well. When we got to know that she had scored a 93%, we were all thrilled about it. She showed the same passion towards her studies in her I PUC and did not let her treatments come in the way of her academic achievements.

She looked forward to her II PUC journey, which would take her a step closer to realising her dreams of becoming a doctor like those who were treating her.
Ranjani Ramesh (Trustee, Samiksha Foundation)
I remember teaching maths to Rafika Banu. She used to grasp the concepts quite fast. She was very prompt in finishing her homework whenever I gave any.
In her own words